Opening Doors to Early Learning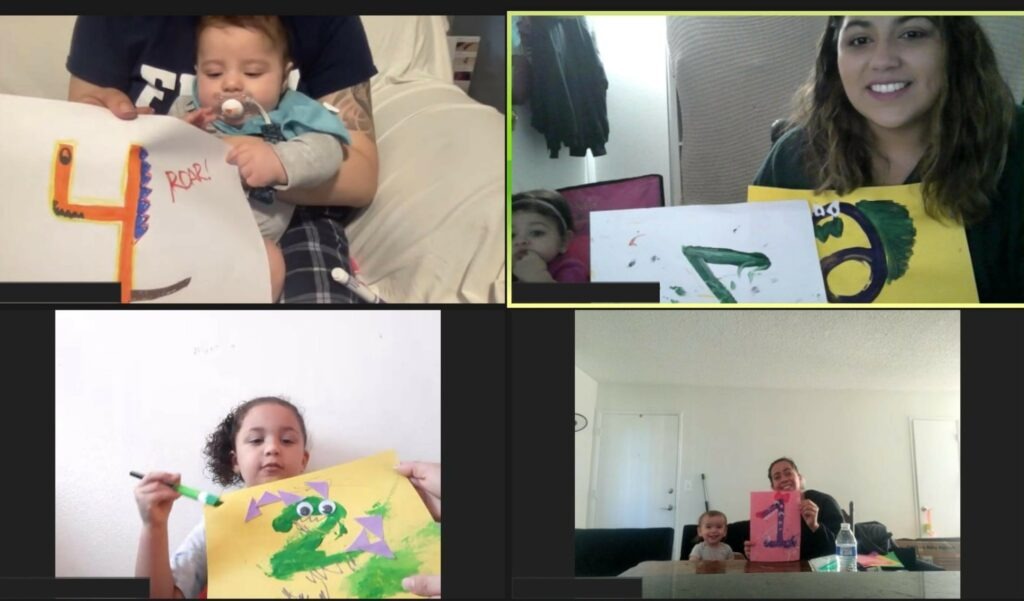 Think Together's Early Learning programs, with support from AmeriCorps members, quickly adapted in the spring of 2020 to create meaningful learning experiences virtually. 25 Families enrolled their newest learners, ages 0-5, into the virtual program. Twice a week for 15 weeks, our instructors met with our early learners and their families offering a blend of child-only and parent-child components.
Samantha Mora started working in early learning as an AmeriCorps member in 2016 and became a Think Together Early Learning site facilitator in 2021. Alongside her team, Samantha developed the early learning program at Paul Revere Elementary in Anaheim online. Not only was no one sure how distance learning was going to work, but early learning instructors, like Samantha were not sure if the young students would have the attention span for distance learning. In a surprising turn of events, the students loved it and stayed engaged throughout the sessions!
Encouraged by successes
Samantha's team of teachers provided instruction through reading, music, and used break-out rooms for small group activities on topics like shapes, letters, numbers and operations, phonics, nursery rhymes, patterning, and writing.
Parents fully stepped in with their children during the parent-child portions of the class. Parents also received their very own class time! Think Together staff provide a listening ear to parents as they describe their child's development and provide them with resources and support when challenges are identified.
That first-day feeling
Students were excelling, and parents grew their engagement in their child's learning every day. While encouraged by the success of the remote model, the early learning team and parents at Paul Revere Elementary were ready to be the first of Think Together's early learning programs to return to in-person programming on April 19th 2022.
As soon as the early learners walked in, they were in awe of the number of toys and materials in the room that they had access to. One student asked, "we can play with anything we want?" Each student got their own seat, a pencil box, and a book to free-draw and practice writing their names in.
On the first day, the class of 10 students broke into small groups to talk about emotions using a paper plate activity. After two years of only exploring at home, Samantha noticed that her young learners were apprehensive to open up in the program. So, to break the ice and get students interacting with each other, the staff set up an obstacle course throughout the classroom!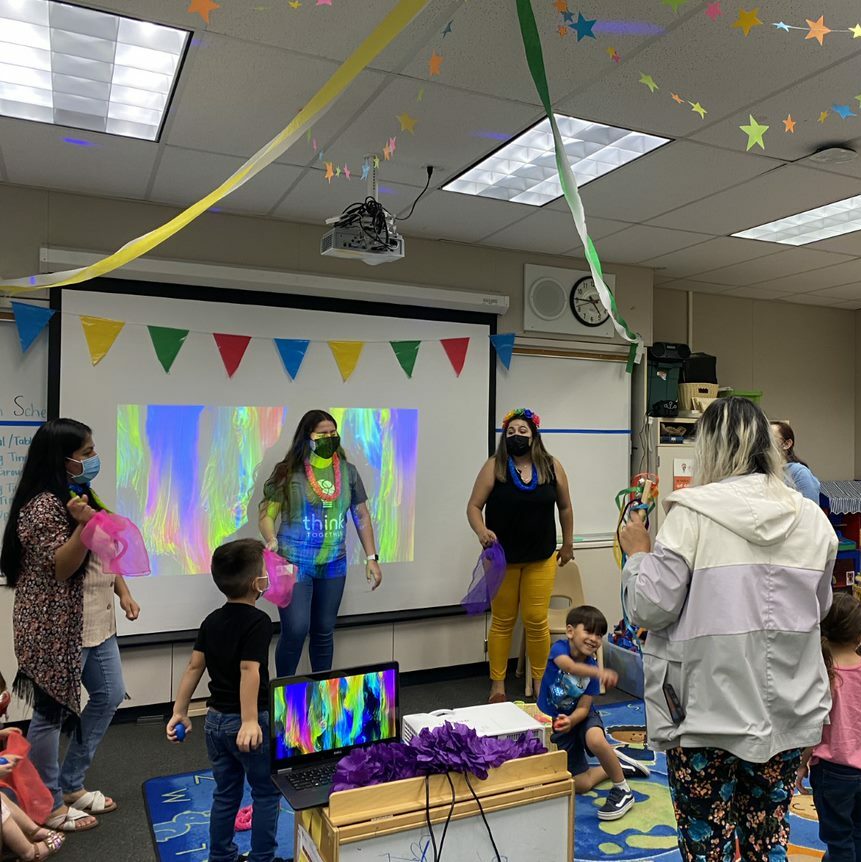 Crawling under desks, stepping through hula hoops held by parents, and hopping from one spot to another helped each child build confidence in the space and even practice patience and kindness when another student struggled. Activities just like these begin a child's academic and social-emotional development journey.
Families immediately felt the difference. Parents who had only experienced the remote classes were blown away by the new benefits offered in classroom learning! Some families who were in the program before the class went virtual with their older kids returned to the in-person program with their youngest children. Watching their young learners play like their older siblings had in the program years earlier was a breath of fresh air.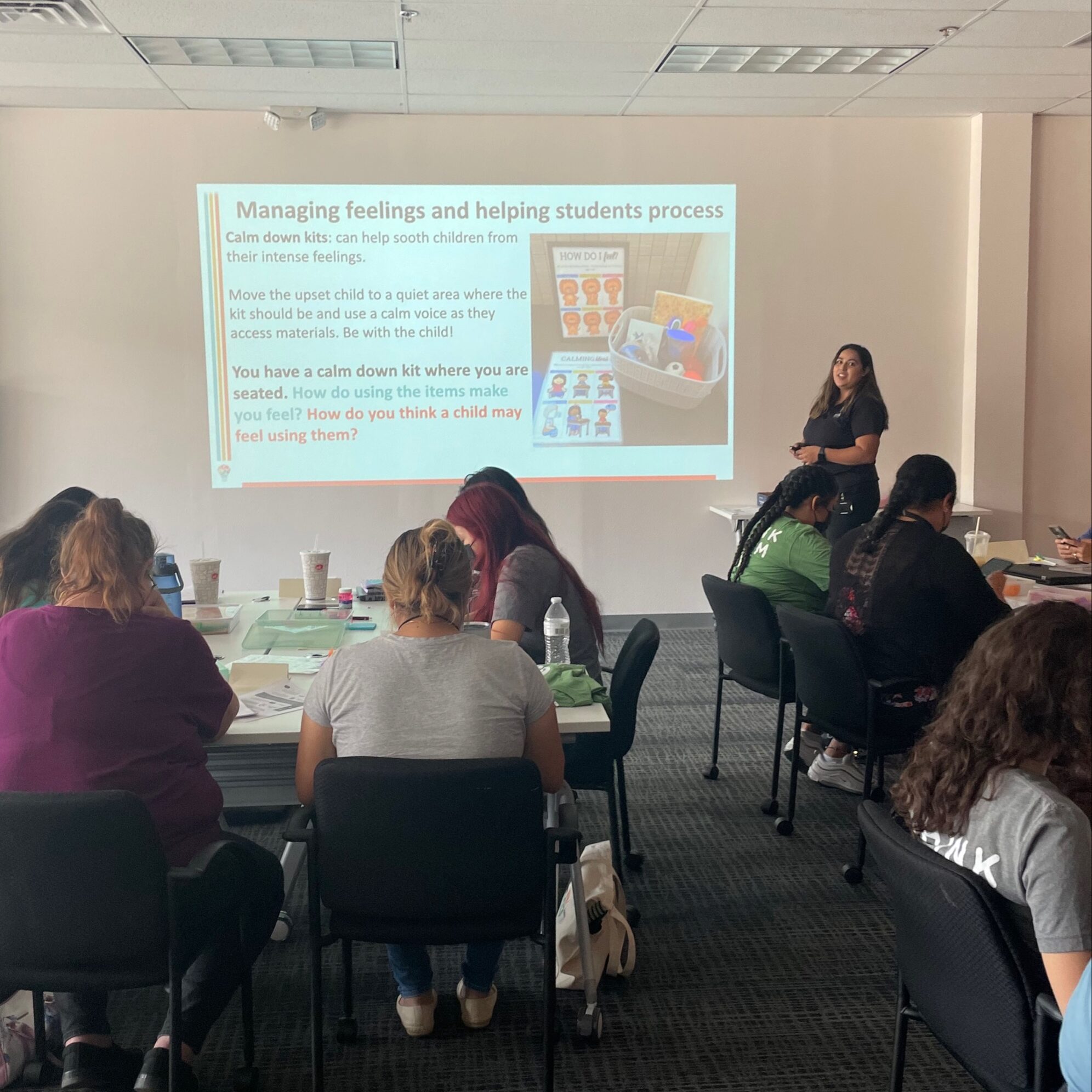 Building to the future
Think Together's Early Learning programs are taking down barriers like cost and location that many families face when seeking early learning opportunities for their children. That's why we are excited that starting in 2023, California will begin implementation of Universal Transitional Kindergarten, building to universal preschool in California by 2025. These investments allow Think Together to offer Early Learning Programs in more schools than ever before across the state.
Today, Samantha works to train brand new Think Together teams in our San Bernardino, Riverside, Palm Springs, and Southeast Los Angeles regions to build their skills and expertise in working with early learners. Think Together provides families with a safe space for exploration, scaffolded risk-taking, social skills, and meaningful challenges that prepare them for kindergarten and beyond.