Think Together Leader is Changing the Odds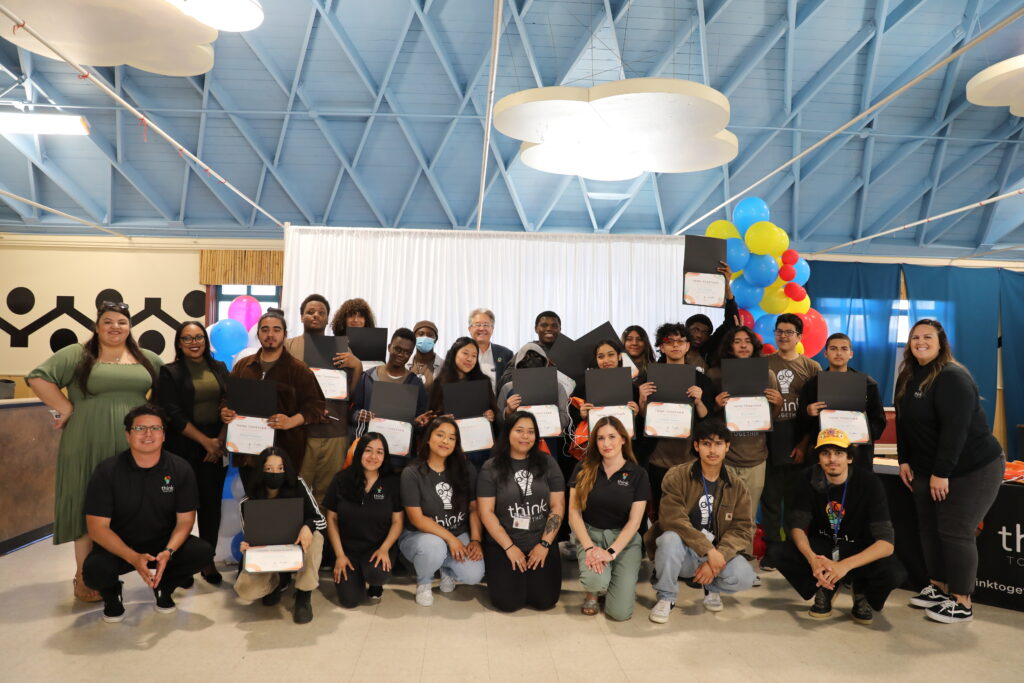 It was a seemingly ordinary end of the year celebration at Compton High School.
Students gathered near the teen center on campus for a Culmination Carnival, complete with Kona Ice, popcorn, cotton candy, and games.
Think Together's Compton High School program serves nearly 100 students daily and this day was no exception as youth lined up to check in for the event.
Once inside, students participated in wellness activities like yoga and cornhole. The drone club demonstrated how students coded their drone flight paths and took their learning to new heights. And, right around the corner, a celebration of the program's student leaders took place inside the multi-purpose room.
One by one, student leaders of the Compton High School Think Together program were called up to the stage and recognized for their achievement. High schools operate a little differently than Think Together's elementary and middle school programs. Students are encouraged to take leadership positions and run clubs that interest them. Represented among Think Together student leaders were organizers of Compton High School's Beauty and Brains Club, music production, and culinary arts club.
After each student was called to the stage, Jacquese, a graduating senior asked everyone for their attention. With all eyes on him, Jacquese made a grand impromptu speech to personally congratulate his schoolmates for graduating and express his profound gratitude for Stephany, the school's Think Together site coordinator, for all she did to help support their goals and ambitions.
"I would like to thank our site coordinator Stephany for pushing us all out of our comfort zones with Boeing, Lights On, and all the other events. We are all grateful for the things you put us through."
Jacquese is an example of how Think Together students take an ordinary day in program and make it extraordinary. But it's not without the support and mentorship of Think Together site coordinators like Stephany who come to school sites each day with the shared purpose of changing the odds for kids.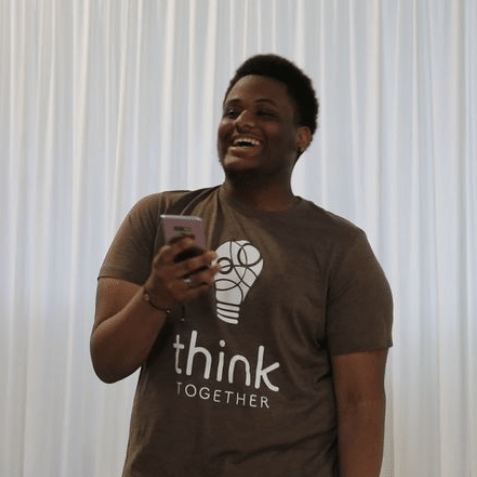 There was one more surprise in store for attendees. As the roar of applause for Jacquese settled, Randy stepped back to the center of the stage to recognize one more outstanding leader-Stephany Garcia.
"Stephany has shown an unparalleled commitment to creating a safe, fun, and inclusive environment for all who attend Think Together's Teen Center here at Compton High School," shared Randy.
Stephany has been with Think Together since August of 2021 and has shown persistence and resilience in building the flourishing program at Compton High School since the start of her tenure. Among the clubs, she has worked with her students to lead Drivers' ed, Elite Triangle Fitness, Champion's Nutrition Club, among many others.
Following Randy's recognition of Stephany, Senior Field Representative, Aide Castro representing the offices of Assemblymember Mike Gipson of the 65th district, honored Stephany with recognition from the California State Assembly for her exemplary commitment to youth in Compton.
"Assemblymember Mike Gipson was honored to recognize Stephany Garcia, of Think Together. Her leadership as an agent of change was evident by the participation of the students. She has been able to engage the students of Compton High School by creating a safe space for expression and socializing, and we are grateful for her efforts."