Jim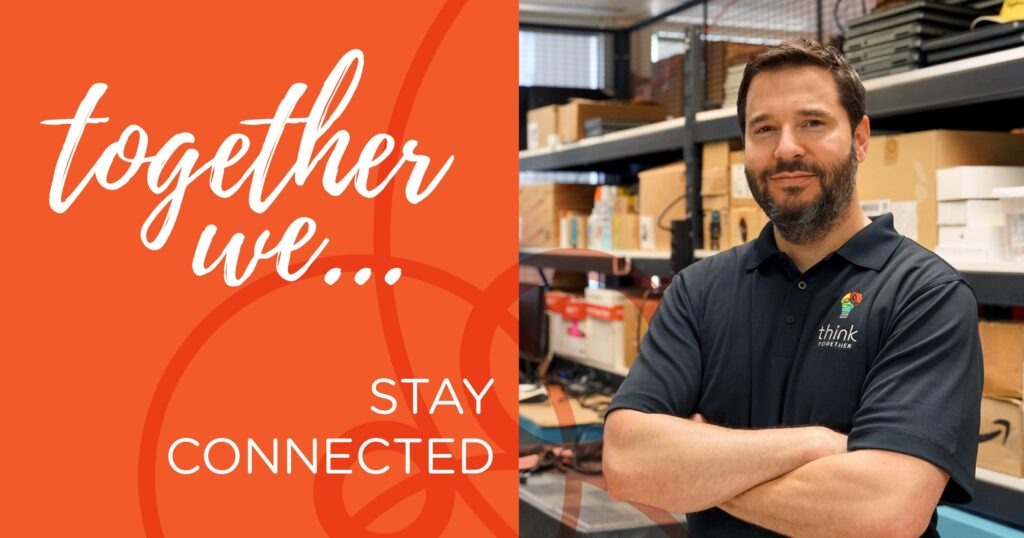 Jim Banas has a passion for helping people whether it's directly or indirectly. He finds Think Together to be a great place to make a difference in people's lives. Since the start of the Stay at Home Order, the IT department has had the herculean task to help all staff members work from home while also working to support distance learning to keep Think Together's mission possible during the COVID-19 pandemic.
---
What brought you to Think Together?
I have always worked for companies that I had a vested interest in. In early 2019 I was looking for my next venture. Unsure exactly as to what that might be, I consulted a third party and placed it in the hands of the universe to see what it might bring. To my delight it brought me here to Think Together, an organization that aligns with my personal values and goals.

What is your "why"? Why Think Together, and why do you feel good about the work you do?
I have a passion for helping people whether it's directly or indirectly. Think Together is a great place to make a difference. By helping children, their parents, schools, and their districts you seem to touch every aspect of these people's lives. It feels good to know something you did made a difference in someone's life. Sometimes that person may not even be aware you played a role in their success. To me that is the real gift, when you can say to yourself "no thanks is necessary". Then admire the positive change you made in that person's life from a distance.

What makes you want to come to work every day?
Working here brings great fulfillment in many ways. I have the opportunity to do a job that I love, continue to learn and expand my own knowledge base, help children get a better education; all while being a part of something greater than myself. It is really about being a part of the bigger picture that makes me leave work feeling accomplished.

What have you and your team been doing since COVID-19 to help Think Together maintain its mission and operations?
This is a really busy time for the IT department as a whole. The work from home initiative as you know, happened very fast. This has exposed a lot of challenges and grey areas that needed to be addressed quickly. We as a team have been instrumental in adapting to the changes and meeting the needs of the organization. One of the immediate needs was to help allow all corporate employees work from home. During this time, we also have been working very closely with facilities and setting up multiple corporate locations and preparing them for their grand opening. We are also simultaneously setting up 1,200 Program Leader email accounts, laptops, and Wi-Fi hotspots to support the new Distant Learning program. In addition, we are currently prepping for another department shuffle while still supporting the IT needs of all Think Together Employees.

What is next for you?
There is a lot of growth potential within the Think Together IT department and the IT industry right now, and the need for IT has only grown. My primary goal right now is to ensure that the organization is supported in the best, most efficient matter possible under the circumstances of the COVID-19 pandemic. We are all in this together and just know, even though it may take a little longer due to this situation, your IT team is here for you.
Jim, we thank you for you and the IT department's efforts to keep our organization connected. We are grateful to have support like you!