Edison International funds electrifyingly fun STEM programs
Think Together is proud to provide robust STEM programs for California students through partnerships with organizations like Edison International.
Students who would not otherwise have access to this specialized curriculum during a typical school-day environment are exposed to coding and robotics as a way to open up new experiences and opportunities.
Currently, there are over 72,000 open computing jobs in California with an average salary of $115K—but only 7,311 computer science graduates, and only 47% of high schools teach a foundational course.
"At Edison, we know that a STEM education has the power to change lives and communities," said Alejandro Esparza, SCE Principal Manager of Corporate Philanthropy and Community Engagement. "We are so proud of our partnership with Think Together and our shared commitment to engaging students through impactful STEM programs."
Even for students who do not pursue STEM careers, the skills required in coding are important to building foundational problem-solving and 21st-century skills, challenging student grit, inviting creativity, and encouraging curiosity.
During the 2019-2020 school year, Think Together implemented Coding and Robotics clubs at 10 middle schools in Rialto, Lake Elsinore, and Val Verde school districts. Over 1,700 students participated in high-quality lessons, hands-on learning opportunities and gained exposure to STEM careers.
"I love running the Edison STEM Robotics Club, seeing the smiles and excitement from the students when they build the robots is priceless. Some kids have never built a robot when they come to robotics and by the end, they feel like they have achieved so much," said Think Together Program Leader Ron Webb.

Think Together's Coding and Robotics Program utilized the LEGO Mindstorms EV3 curriculum to teach students the fundamentals of coding and robotic design. The first unit of the program was focused on renewable energy. Students engaged in lessons about energy transfer, wind energy, solar energy, energy efficiency, and electric vehicles.
In a culminating project, students built, programmed, and tested their own windmill to demonstrate their knowledge of wind turbines. After the renewable energy unit, students continued to learn about key coding terms, application of the design engineering process, building and programming their own bots.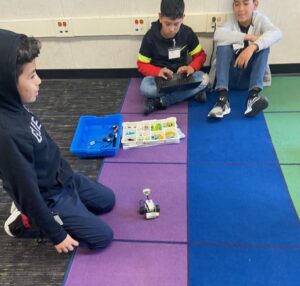 "I like making new things from Legos. It's challenging and I learn about science in a fun way. Robotics will help me in the future by making new things and helping others," said one of our 6th grade students.
Through this partnership, Think Together students have gained interest in exploring STEM majors and careers. Not only that, but through STEM curriculum, students are learning vital skills in troubleshooting, problem-solving, and teamwork as they complete these robotics lessons.
"I've never seen my students so engaged as I did with them learning about robotics. They worked in groups to complete a group goal and worked together to accomplish the same outcome. They enjoyed learning something different and building something new!" said Site Coordinator Kimberly Martinez. "The students gave it their all and saw it to the end! They truly enjoyed learning about robotics!"
"My daughter comes home daily talking about what she was able to do in Robotics and was super excited to show me her progress," said one of our parents.
We are so appreciative to work with corporate and foundation partners to help us provide students with quality programming that sets them up for success in the future. Thank you Edison International for partnering with us to change the odds for kids!