Celebrating Hispanic Heritage Month Together
Through Think Together's social-emotional learning (SEL) curriculum, we want to make sure our students feel connected to their culture and heritage in addition to learning more about other cultures in our diverse world. Throughout the month, we will be celebrating Hispanic Heritage Month in our programs and across the organization.
What is Hispanic Heritage Month?
Hispanic Heritage Month is observed nationally from September 15 to October 15 by celebrating the histories, cultures and contributions of those whose ancestors came from Spain, Mexico, the Caribbean and Central and South America.
What are students learning about Hispanic heritage in Think Together?
First, students can stretch their imaginations by following in the footsteps of Mexico City-based artisan, Pedro Linares. Pedro is attributed as the creator of the first alebrijes. These fantastical creatures are built with papier-mâché techniques and painted with intricate patterns of bright neon colors. Before his death in 1992, he trained many of his descendants to continue the alebrijes tradition, making alebrijes part of the great Mexican folk-art tradition.
Our Think Together students in 6th-12th grade will get a behind-the-scenes look at the success of chart-smashing hit song "Despacito" by Luis Fonsi and Daddy Yankee. Reggaeton, the genre "Despacito" most easily fits into, is only the most recent in a long string of Caribbean music styles, from Bachata to Merengue to Salsa, whose infectious melodies are considered some of the most popular music styles in the Spanish-speaking Caribbean. Our students will discover the wide variety of Latin American musical styles incorporated in the song and consider where "Despacito" fits with a longer history of American popular music that adopts Latin American elements.
Why is it important to introduce students to different cultures and ideas?
It's important to give students opportunities to learn about different cultures. By fostering inclusion and awareness of heritage and cultures, students learn to be more empathetic when differences arise. The world is only going to get more diverse, and by integrating social emotional learning and cultural awareness curriculum in our programs, we better help students be prepared to thrive in an evolving world and embrace those different from themselves.  Alongside celebrations, Think Together team members and students shared their insights and personal experiences of the impact of exploring new ideas.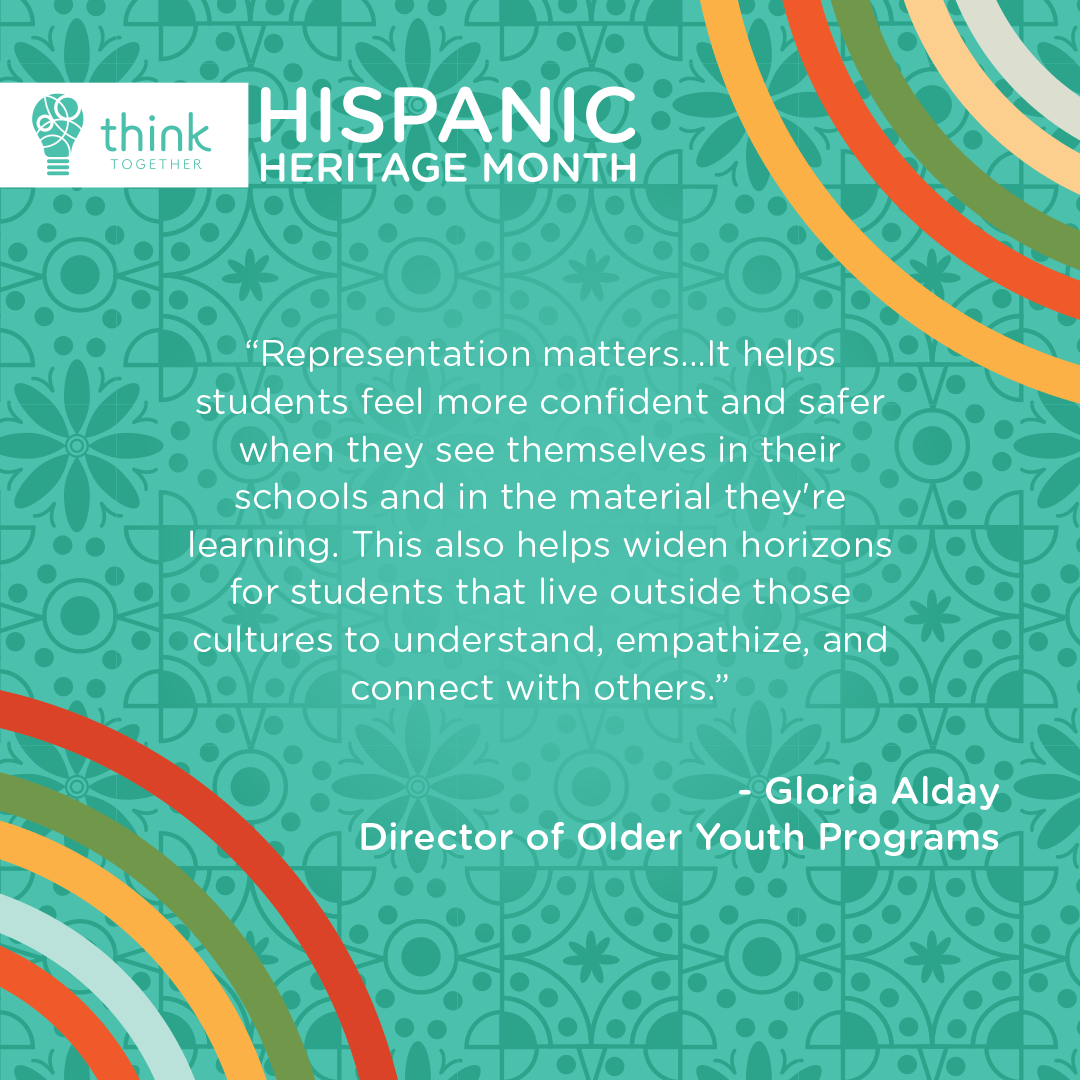 To learn more about Hispanic Heritage Month, read our blog posts from previous years: