Balancing parenting and educating in COVID-19
During the pandemic parents are not only focused on their careers but now are also the frontline for their child's education. They have to work hard to find a balance between the two. Terry Bonilla is one of those parents.
Terry, a mother to a two-year-old and a nine-month-old, works in-person for Think Together's State Preschool programs in Buena Park as the enrollment clerk. When the pandemic hit, she wanted to make sure her toddler son Nico was still able to get started with his education.
Before joining Think Together, Terry was an AmeriCorps member assigned to our Early Learning programs. She served for two years before becoming a Parent Educator. In her position she provided parents with resources on parenting styles, methods, and guides on how they can be a part of their child's learning.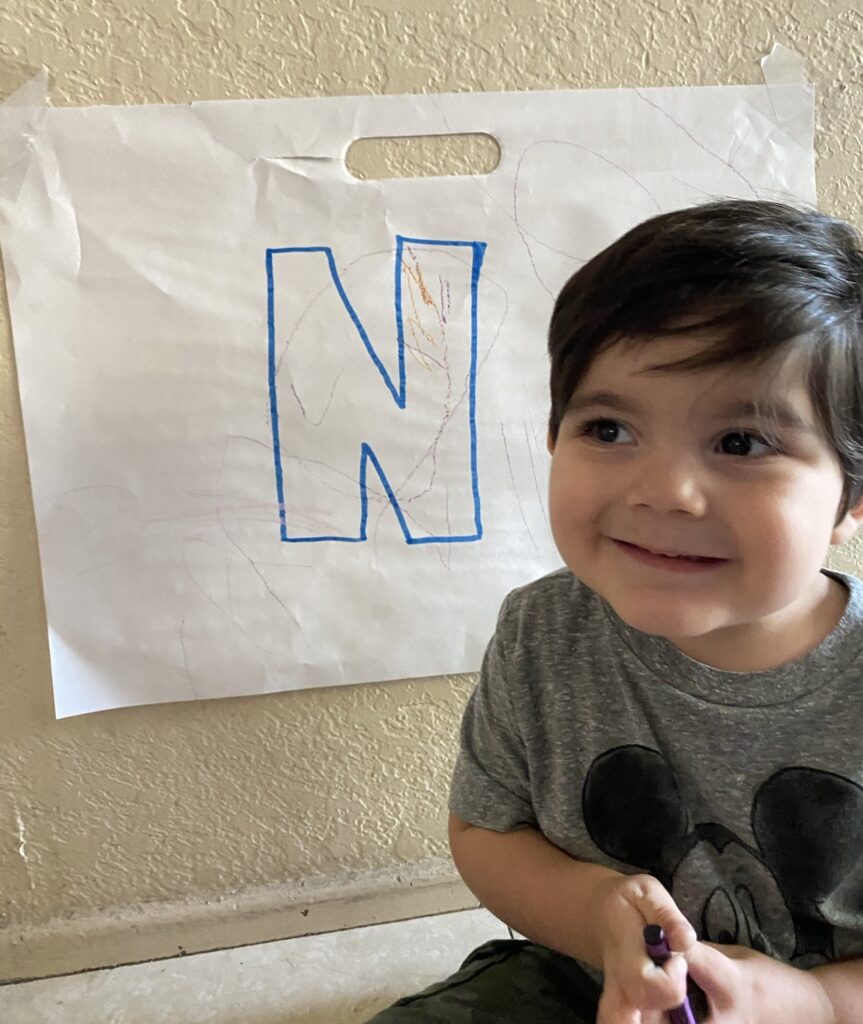 When Terry was looking for programs for her son, she already knew what the best for him would be and enrolled in Think Together's virtual early learning program. "Where I started my love for child development, my son now gets to experience it."
Terry has the unique experience of at one point being the teacher helping parents and their children learn together, and now experiencing it herself with her husband and son.
"He [Nico] looks forward to seeing his teachers and friends. He is recognizing his letters, colors, animals, and this week he counted 1 to 5. I was in complete shock and so proud. He loves when the teachers do music and movement. He gets to shake his sillies off. I am so thankful for all the hard work the teachers put into virtual learning. They are always smiling, happy, and motivating the children and parents. I can see that they try so hard to make the best for us," she says.
Now working as our enrollment clerk for Buena park state preschools, Terry goes above and beyond to make sure that families are getting the support that they need. If state preschool isn't the right stage yet, Terry helps refer them to our early learning programs and other resources within the community.
Terry, like many, has been on an emotional rollercoaster, making sure that she is supporting her family as well as Think together families.
Being the enrollment clerk means that Terry is the one to make sure that families meet eligibility requirement for our state preschool programs. She has seen first-hand through the enrollment process that many families are struggling right now.
One family she worked with recently wasn't eligible for the program because they were a frontline healthcare worker, and between hazard pay and extra hours, they had just gone over the income threshold. Looking at the hours, the hard work and the risk this family was experiencing, Terry knew that there had to be something Think Together could do and found a solution for them to make sure their child is safe and learning while they were working long hours.
Parents across the country are facing the challenge of balancing work and family this past year. Terry's advice is to try to slow down and take it all in.
"I'm learning this as a parent, to be patient. They are only so little for such a short time. They grow up, they go off to college. These days go by so fast and you can't take them back."