Asian American and Pacific Islander Heritage Month
May is dedicated to celebrating Asian American and Pacific Islander (AAPI) Heritage as well as recognizing the contributions and influence that Asian Americans and Pacific Islanders have had on the United States.
According to Pew Research, more than half of Asian Americans ages 25 and older (54%) have a bachelor's degree or more education, compared with 33% of the U.S. population in the same age range. And although this community is earning higher education degrees at a faster pace than their peers, Asian Americans still must overcome challenges in pursuit of equitable education opportunities.
While there are many inspirational people to feature, we would like to highlight these six figures who have helped AAPI communities' success despite societal barriers.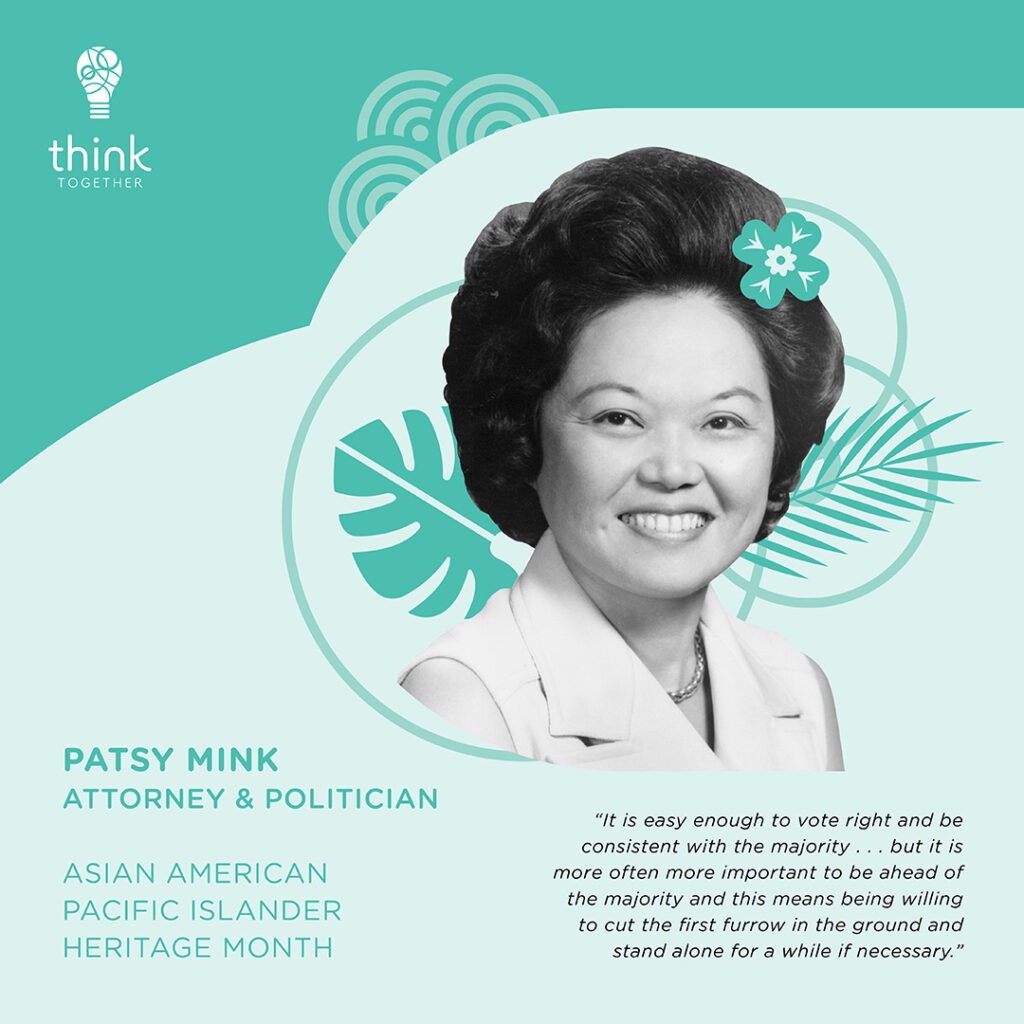 Patsy Mink – Attorney & Politician
Patsy Takemoto Mink, during her 24 total years of service in U.S. Congress, introduced one of the landmark laws promoting educational equity in K-12 schools: the Women's Educational Equity Act. Mink was the first woman of color and, as a third-generation Japanese American, the first Asian American elected to U.S. Congress.
Born and raised on the island Maui, Hawai'i, Mink served six consecutive terms in her first tenure from 1965 to 1977, and another 6 from 1990 to 2002 representing Hawai'i. This bill, among many others Mink supported, promoted gender equity in schools and increased educational and job opportunities for women.
Mink was a lifelong champion for women, saying, "It is easy enough to vote right and be consistent with the majority . . . but it is more often more important to be ahead of the majority and this means being willing to cut the first furrow in the ground and stand alone for a while if necessary."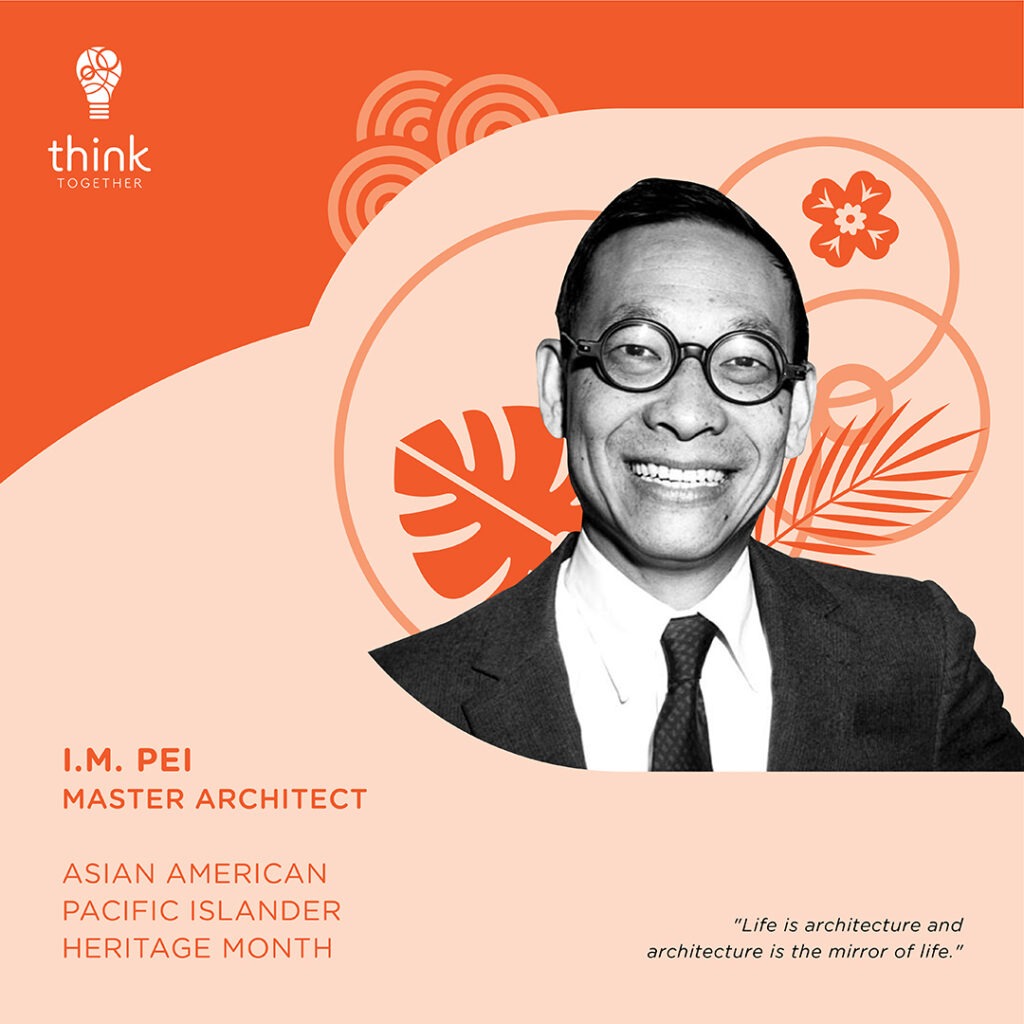 I.M. Pei- Master Architect
One of the most revered architects in the world, Ieoh Ming Pei is most famously known for designing the glass pyramid at the entrance to the Louvre in Paris and the National Gallery of Art's East Building in Washington, D.C. Born in China, he lent his style of modernism to many urban projects in New York and beyond, including the National Center for Atmospheric Research in Boulder, Colorado, and the Museum of Islamic Art in Doha, Qatar. He passed away in 2019 at the age of 102.
"Life is architecture and architecture is the mirror of life."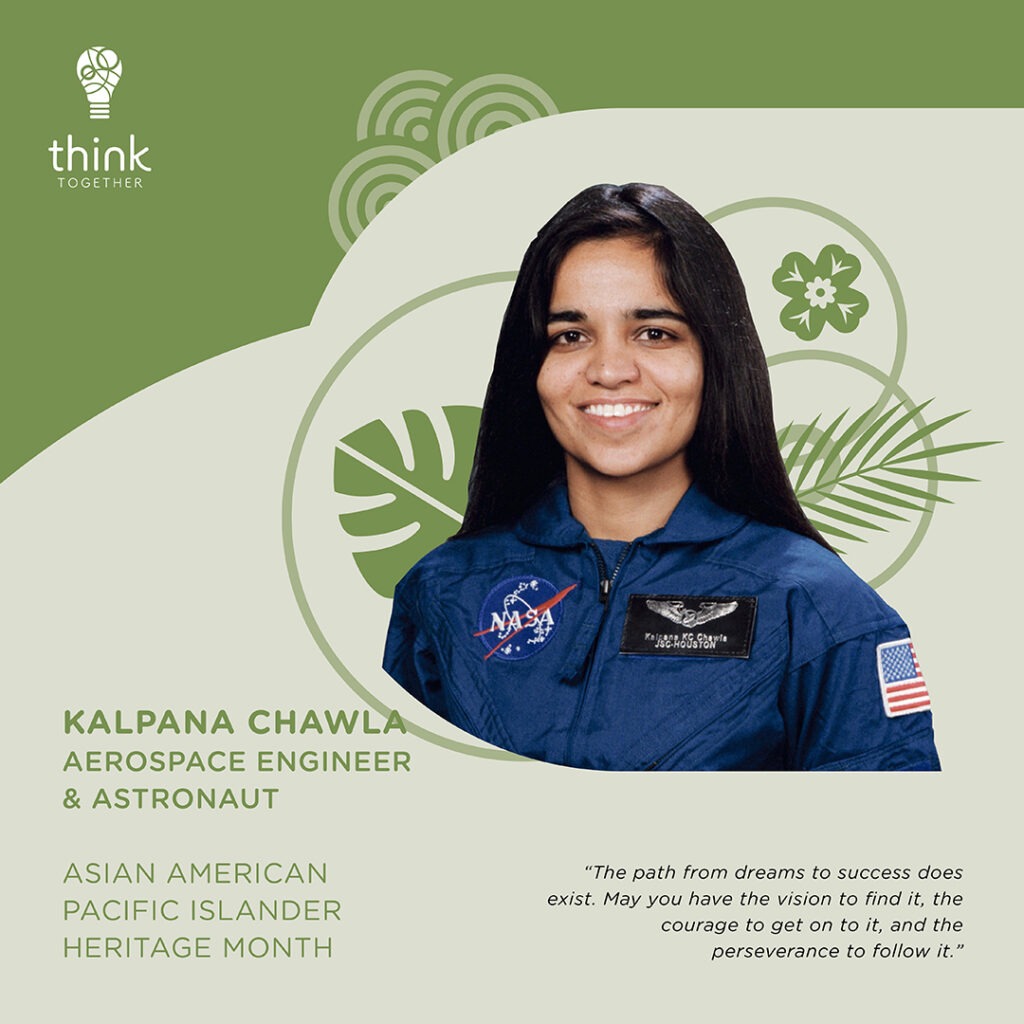 Kalpana Chawla-Aerospace Engineer & Astronaut
Kalpana Chawla was an aerospace engineer and the first Indian American woman in space on NASA's 1997 Columbia space shuttle mission (STS-87) as a robotic arm operator.
Chawla was a mission specialist on the Columbia shuttle's STS-107 mission in 2003 and died alongside her seven crewmates when the shuttle disintegrated upon re-entry after its 16-day flight. Her legacy has inspired others to pursue careers in spaceflight and STEM.
"The path from dreams to success does exist. May you have the vision to find it, the courage to get on to it, and the perseverance to follow it."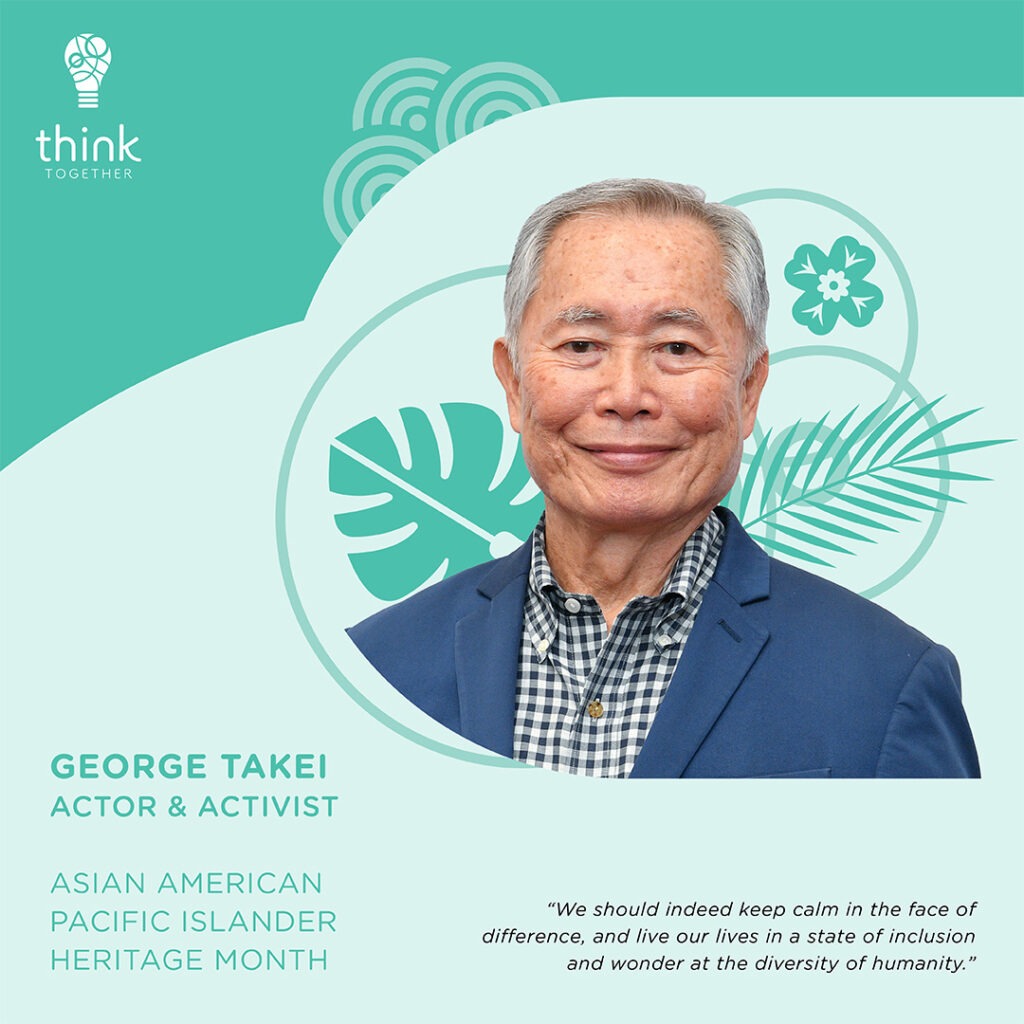 George Takei- Actor and Activist
George Takei is best known for his portrayal of Mr. Sulu in the acclaimed television and film series Star Trek. He is also a social justice activist supporting several causes. One of those is the Human Rights Campaign, the largest national lesbian, gay, bisexual, and transgender political organization. Takei is also Chairman Emeritus of the Japanese American National Museum's Board of Trustees; a member of the US-Japan Bridging Foundation Board of Directors; and served on the Board of the Japan-United States Friendship Commission under President Bill Clinton. In recognition of his contribution to the Japan-United States relationship, in 2004, Takei was conferred with the Order of the Rising Sun, Gold Rays with Rosette, by His Majesty, the Emperor of Japan.
With the outbreak of World War II, Los Angeles, California-born Takei, and his family were placed behind the barbed-wire enclosures of United States internment camps along with 120,000 other Japanese Americans. Inspired by this difficult chapter of American history, Takei developed the Broadway musical Allegiance, which premiered at the Old Globe Theatre in San Diego in 2012, won multiple awards, and was followed by a Broadway run in 2015-2016.
"We should indeed keep calm in the face of difference, and live our lives in a state of inclusion and wonder at the diversity of humanity."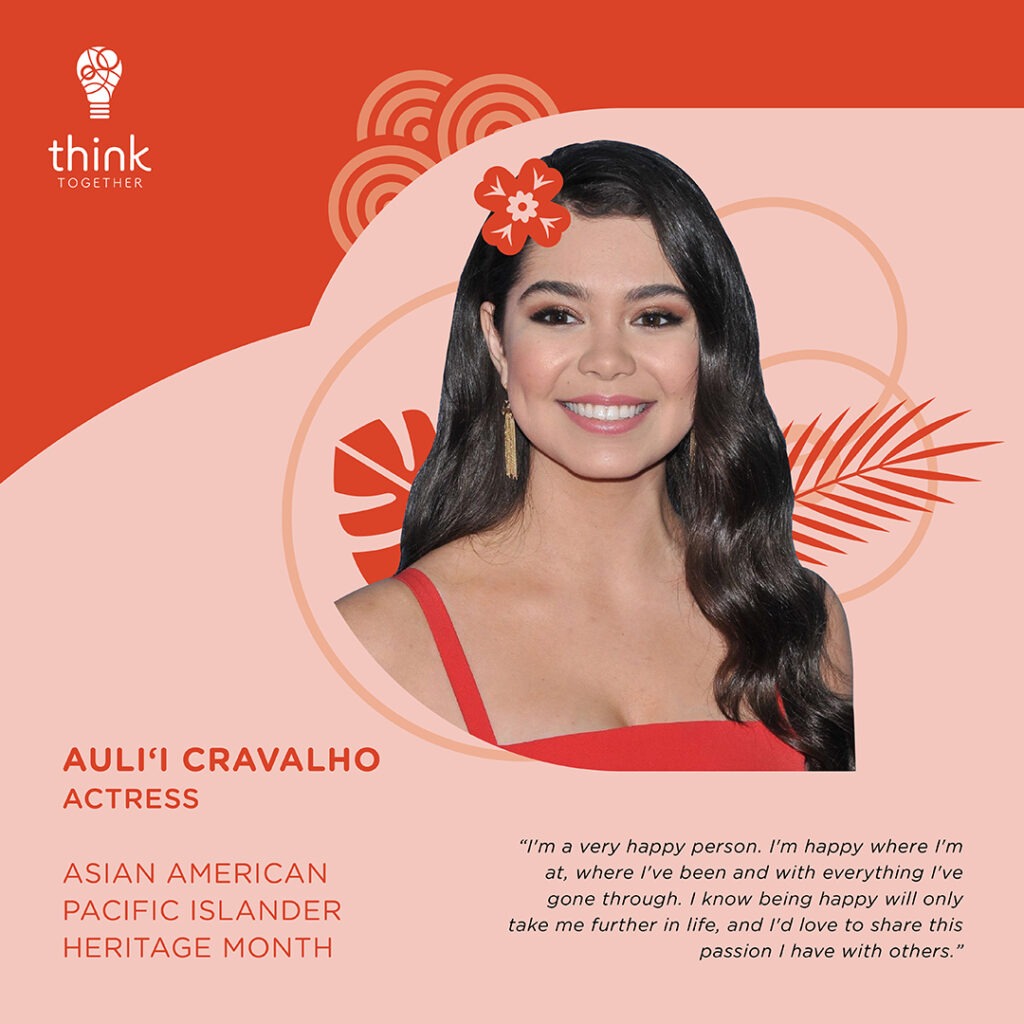 Auliʻi Cravalho- Actress
Auliʻi Cravalho is a Hawaiian actress and singer who made her acting debut as the voice of the titular character in the 2016 Disney movie "Moana."
She is currently a student at Columbia majoring in environmental science and is also using her platform to highlight the importance of being your authentic self.
"I'm a very happy person. I'm happy where I'm at, where I've been and with everything I've gone through. I know being happy will only take me further in life, and I'd love to share this passion I have with others."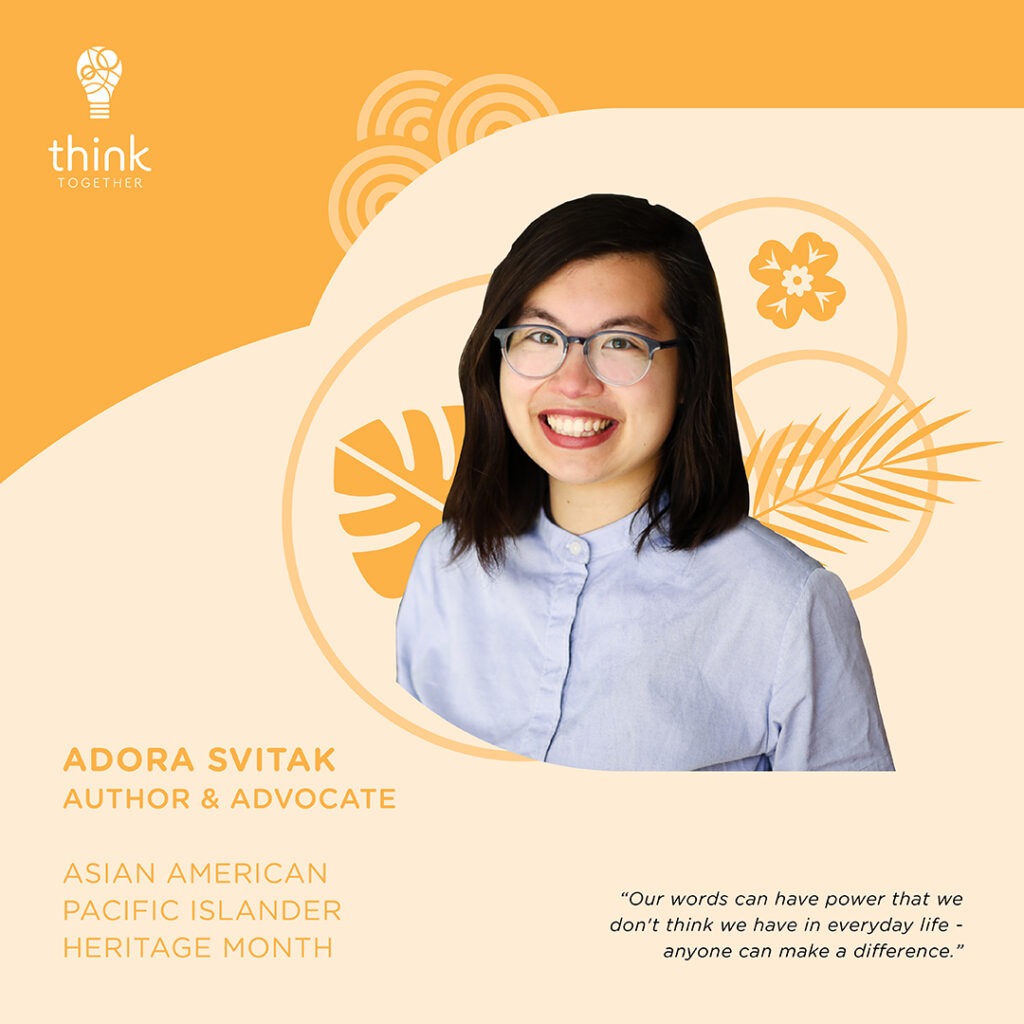 Adora Svitak- Author & Advocate
Adora Svitak, the daughter of a Chinese immigrant, began her career as a prolific writer: She had written 300 short stories by the age of 7, and went on to pen three books, including a novel.
In 2013, she became internationally famous for her TED Talk, "What adults can learn from kids," which was viewed by millions and translated into more than 40 languages. Since then, she's become an eloquent champion of kids across the world: She spoke at the UN's Economic and Social Council's Youth Forum, served as a Verizon Foundation Literacy Champion, and delivered the Girl's State of the Union. "Our words can have power that we don't think we have in everyday life – anyone can make a difference."
For more information about AAPI Heritage Month and resources visit these links: