Delina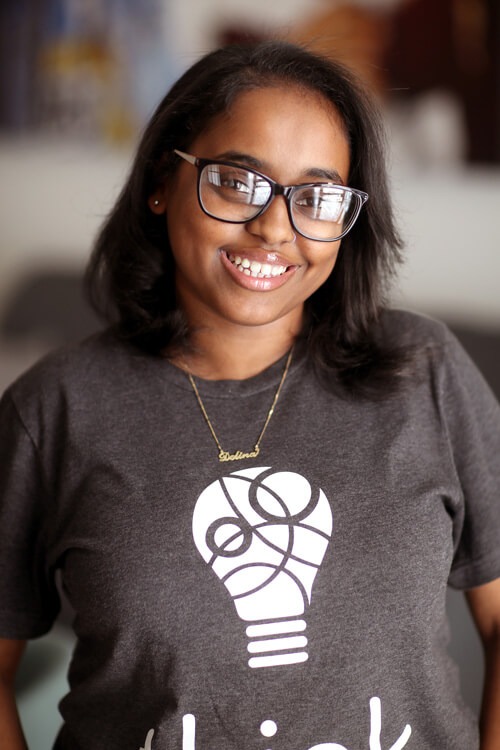 Delina's highest priority is to cultivate a safe harbor for youth so that they have a supportive place where they find a trusting and nurturing environment that supports their social-emotional development. Delina attributes her compassionate leadership to her own experiences of being a first-generation American and the community she had access to in helping her become a guiding figure for youth just like her.
Establishing close relationships with older youth is imperative to their emotional security, sense of self, and evolving understanding of the world around them. Delina believes in providing mentorship opportunities to youth because of the ability it has to strengthen a student's capacity to learn and empower them to leverage their voice for the greater good. Delina and her team do their best to provide a warm and welcoming space for youth to explore, find comfort in positive relationships and seek support during trying times.

We are excited to share her story with you!

---
What brought you to Think Together?
I joined the Think Together team after the unfortunate closure of the Youth Policy Institute (YPI). I found the mission of Think Together to be very telling of the organization's values and beliefs. The mission spoke to me and reassured me that I could continue to lead as passionately for the kids we positively impacted and the communities that we served and continue the legacy of service for youth in Los Angeles. I found that 'changing the odds for kids' was easy to understand because of the purpose behind it. For me, it truly reflects the work that I wanted to continue to do in my community.

What makes you want to come to work every day?
Our programs drive me because it's the work that I love to do. I have had the unique opportunity to build a sense of community and belonging for the youth in Los Angeles for over four years. Each day inspires me with hope and aspirations for them. I hope to provide them the chance to find their voice, advocate and articulate their views and beliefs on the things that matter to them.

Your intentions are very encouraging Delina. What has inspired you to help others find their voice?
Inclusion and civic engagement are very important to me. Access to opportunities like the ones I strive to provide in my program has helped me to think broader and deeper about the world around me. I graduated from Cal State LA with a major in Psychology and a minor in Biology because I wanted to understand the whole person. Particularly, their ability to expand themselves in the world while embracing diversity and positivity in all circumstances. It is a special talent that very influential leaders have in creating transformative change in the world today. The way I see it, our kids are our future and the earlier they can find their voice, the better off we will be.

Tell us, Delina, what is next for you?
I continuously seek to evolve as a leader and I'm open to all the guidance and perspectives that my colleagues have to offer and share with me. I'm a champion for kids and work to advocate for their needs and would love to learn how others are using their platforms to educate and help our older youth evolve into the future leaders that will inspire a better tomorrow. As for what I envision for my future, I hope to continue to grow in Think Together and serve the youth of California to the best of my ability because I had those opportunities as a young adult and it shaped me into the leader I am today.

Delina, we appreciate the difference you make in our community as well as, the extraordinary dedication you have for youth and their futures. We are grateful to have such a thoughtful leader like you!